Search
Vlad COLAR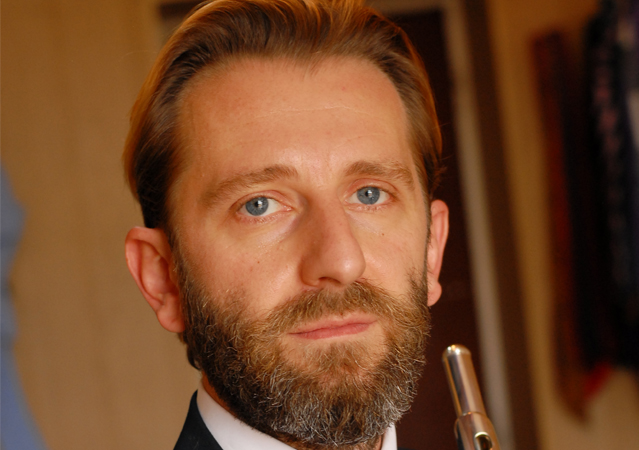 Co–principal flutist of the Banatul Philharmonic Orchestra of Timișoara
Vlad Colar was born in Romania in 1981 and he is currently co–principal flutist of the Banatul Philharmonic Orchestra of Timișoara. He started studying piano at the age of eight and then the flute at the age of ten with Constantin Talmaciu – solo flutist of Arad State Philharmonic. He graduated from the Faculty of Music – West University of Timisoara (Ro) and the State Conservatory "Giuseppe Verdi" in Turin (IT) under the coordination of professor Enrico Cannata. Later on in his career he perfected himself in flute performance, studying over time with soloists and prestigious professors such as Michael Hasel (Berlin Philharmonic), Janos Balint (Hochschule für Musik-Detmold), Rolf Bissinger (Frankfurt Opera Orchester), Linde Brunmayr-Tutz in flute traverso, and playing in masterclasses for Peter Lukas Graf, Michael Martin Kofler, Hubert de Villèle (Orchestre National de France).
Vlad Colar appeared as a soloist with the Banatul Philharmonic Orchestra and plays recitals for flute and piano both in Romania and abroad. He is performing as a piccolo flute soloist as well, playing with a Braun small flute – low C extended range piccolo. Due to the sounds of Romanian music from the Carpathian-Danubian-Pontic space in which Vlad developed as an artist, as well as due to the sound similarities between whistle – Romanian folk instrument – and piccolo flute, Vlad Colar was asked to demonstrate through his mastery the new instrument presented by Braun flute workshop. The ability of expresive playing with the new instrument aroused the interest of contemporary composers such as Gabriel Mălăncioiu-Romania, Horia Surianu-France, Peter Toth-Hungary, who dedicated their compositions to him, works that were presented in the first audition in Romania and Germany. A very successful event was at the München Flute Festival organized by Deutsche Gesellschaft für Flöte where Vlad Colar was invited to held a recital of contemporary romanian music.
From 2014 to 2018 Vlad Colar was flute teacher at the Faculty of Music in Timișoara. He held flute and piccolo workshops in Romania and Germany and coached woodwind section and chamber music groups for the International Youth Orchestra Festival, La via dei concerti in Italy-Trento.
As a chamber musician Vlad Colar also devotes himself to contemporary music toghether with Atem Ensemble, one of the most successful contemporary music groups in Romania. Vlad is playing with a Parmenon – Ovatio silver flute and a Braun small flute.
Instruments
Ovatio

Retour en Haut